FRIB Laboratory graduate student Daniel Puentes and radio-show team win first place at Great Lakes Media Show Student Awards
A group of Michigan State University (MSU) students, including FRIB Laboratory graduate student Daniel Puentes, earned a first-place award at the Annual Great Lakes Media Show, hosted by the Michigan Association of Broadcasters (MAB) on 3 March 2020. Puentes, co-host MSU graduate student Chelsie Boodoo, and MSU students Sophie Sagan and Taylor Haelterman (both editors) earned first place in the Talk Show category for "The Sci-Files" radio show.
The Sci-Files is a weekly show on MSU's student radio station, WDBM (Impact 89FM). It can be heard on WDBM Sundays at 9:30 a.m., or online through the show website, Spotify, or iTunes. In addition to the show's award, WDBM won "2020 Station of the Year."
MAB brings together professionals and experts from different areas of broadcasting and students from schools across Michigan for informational sessions and its annual awards program.
On The Sci-Files, Puentes and Boodoo interview MSU students in different disciplines about their research. There are currently more than 50 episodes of the show since its start in 2019.
The show's goal is to give students an opportunity to practice talking about their research to the general public and showcasing the science that is taking place at MSU. Examples include podcasts featuring FRIB Laboratory graduate students:
FRIB Laboratory graduate student Sara Ayoub's research on the Separator for Capture Reactions and its relation to nuclear astrophysics
FRIB Laboratory graduate student Ben Hall use of quantum computing to solve difficult nuclear theory problems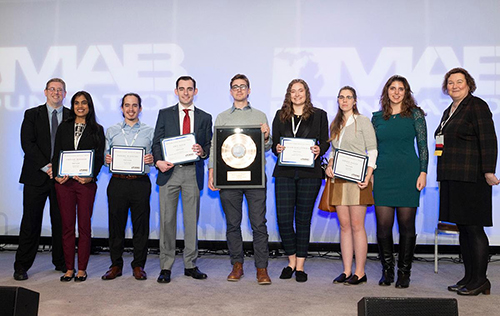 The show also makes direct impacts on the local community. Later this summer, The Sci-Files will host a philanthropy event at the Grid Bar and Arcade in Lansing, Michigan. Puentes and Boodoo will bring back previous radio interviewees to give updates about their research. Audience members will have a chance to win science prizes at the event. The duo will also release a beer they brewed in collaboration with the Grid and Saugatuck Brewing Company, named "Diceros." The beer is inspired by a recent Sci-Files episode when Puentes and Boodoo interviewed the Potter Park Zoo staff about the recent birth of Jaali, a black rhino calf. All proceeds from beer sales will go to the Animal Health Program at Potter Park Zoo. For more information about the anniversary event or to connect with The Sci-Files, email scifiles@impact89fm.org.