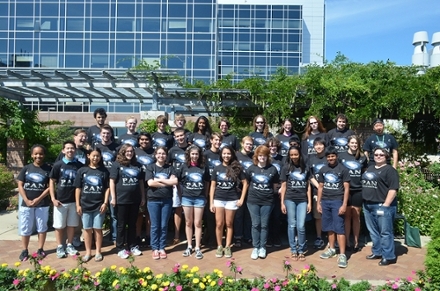 Physics of Atomic Nuclei (PAN)
NSCL and JINA co-sponsor a Physics of Atomic Nuclei program on the campus of MSU each summer. PAN is a free residential summer camp for science teachers and high school students.
The PAN program includes:
Talks from researchers on current topics
Training in the use of detectors and equipment
Experiments with cosmic rays
"The goal for teachers is to impart the knowledge, experience and confidence necessary that they can incorporate nuclear astrophysics into their curriculum. The goal for students is to expose them to an authentic research environment/experience so they can discover potential interests or even careers."
Teachers can earn Continuing Education credit (SCECH) from the state of Michigan for participation in PAN.
More information and the online application can be found on the new JINA PAN page.
Visit the Past PAN Programs wiki to see what PAN has included in prior years.
Questions about PAN? Read the Frequently Asked Questions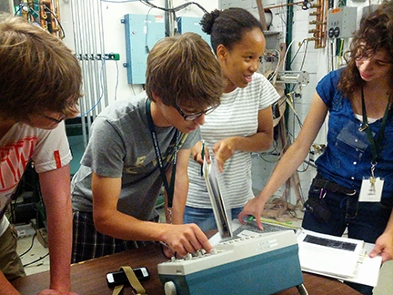 Other Camps Hosted at NSCL
The Laboratory annually hosts students from other science-focused pre-college programs at MSU. Our faculty, staff and students love to share their knowledge with these interested and motivated audiences!
Math, Science, & Technology (MST)
MSU's Gifted and Talented Education office offers this two-week camp every summer to high-achieving middle school students. NSCL and JINA contribute a Nuclear Astrophysics class to inspire future scientists among these inquisitive guests.
Learn more and apply before May at the MST website.
High School Honors Science Program (HSHSP)
HSHSP is a summer-long research apprenticeship for high school students. Over seven weeks, they live on campus and conduct experiments under faculty advisors. NSCL often sponsors projects for student researchers.
Learn more and on the HSHSP website.
NS3 – Nuclear Science Summer School
NS3 is a summer school for undergraduate students that aims at introducing the participants to the field of nuclear physics. NS3 will be hosted by Michigan State University (MSU) and will offer lectures and hands-on activities on selected nuclear science topics. The school activities will take place at the National Superconducting Cyclotron Laboratory (NSCL) and will include lectures by local and visiting researchers, nuclear physics labs, a tour of the facility, discussions with graduate students and faculty, and more.
Spartan Youth Programs
All camps/programs at Michigan State University: