Contact Us
National Superconducting Cyclotron Laboratory
Michigan State University640 South Shaw LaneEast Lansing, MI 48824 Phone: 517.355.9671Email: info at nscl.msu.edu or nscl at msu.edu
Media Contact:
Karen King, Communications ManagerEmail: kingk at frib.msu.eduPhone: 517-908-7262
Information for NSCL users traveling to the laboratory is available here.
Directions & Parking: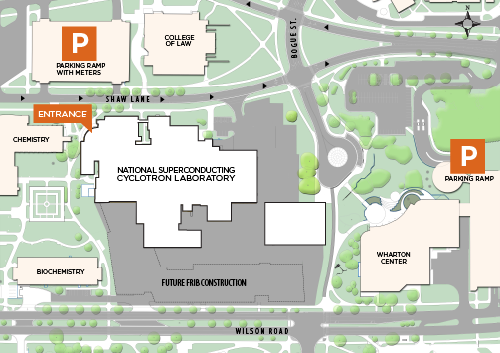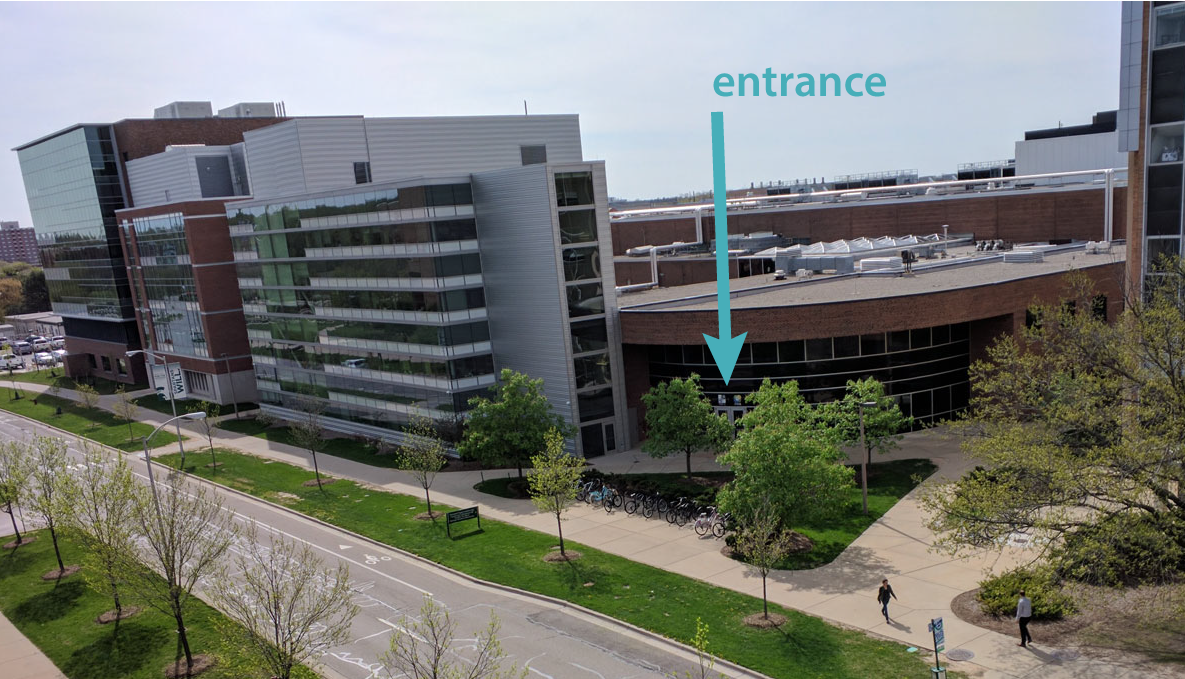 Outside visitors arriving by car should park in the Shaw Parking ramp, which is north of NSCL/FRIB directly across Shaw Lane.  Visitors should park in a 'pay by' space in the subterranean levels and pay at the meter. If you go up the ramp, the only spaces are for those with a parking pass.  Note: parking in the Shaw ramp is free (at parking pass) overnight from 6 pm – 7 am and on the weekend.
Busses are welcome to stop briefly at the bus stop in front of the Chemistry building, from which it is just a few steps to the lobby entrance. Busses can park well south of NSCL in the "commuter lot" #89 on the northwest corner of Farm Lane and Mt. Hope, then wait for a call to pick visitors up again.
Directions from Detroit DTW Airport:
Exit airport towards freeways
North I-275 to I-96
West I-96 (towards Lansing) to US-127 (exit 106)
North onto US-127 (3.2 miles) to Trowbridge Road exit
East on Trowbridge Road (0.5 miles) to Harrison Road and turn left (North)
Right (East) on Shaw Lane (1.0 mile) to NSCL
Directions from Lansing LAN Airport:
Exit airport by turning right on Grand River
Take Grand River to Waverly Road
Turn left (South 3.4 miles) on Waverly Road to I-496
Turn left (East 5 miles) on I-496 to Trowbridge Road exit
East (0.5 miles) on Trowbridge Road to Harrison Road
Left (North) on Harrison Road (0.4 miles) to Shaw Lane
Right (East) on Shaw Lane (1 mile) to NSCL