FRIB, MSU SciComm partner to host YouTube star Physics Girl
Nearly 500 people attended a live-science art show on Oct. 19 featuring YouTube science communicator "Physics Girl" Dianna Cowern. The crowd included grade-school students, teachers, parents, college students, professors, and scientists. The Facility for Rare Isotope Beams (FRIB) partnered with the Michigan State University Science Communication (MSU SciComm) student organization to present the show at MSU's Wharton Center for Performing Arts.
Cowern is the creator and host of the viral and PBS-sponsored "Physics Girl" web series. Her series has more than 1.3 million subscribers. It is a resource for videos and other materials about physics and physics-related topics. Her videos have received more than 80 million views. Her series has featured well-known figures including Bill Nye and Anne Wojcicki (founder of 23andMe). In 2019, Cowern was named to the "30 under 30" list by Forbes Magazine.
The live-science art show was part of a series of events MSU SciComm presented on Oct. 19 in its first science-art showcase. Other activities included:
an Abrams Planetarium show with a virtual tour of FRIB on the dome,
a science-art exhibit at FRIB, and
a beer release and "Beat the Scientist" event at The Grid Arcade & Bar.
FRIB graduate student Daniel Puentes helped organize the science-art showcase. Puentes studies and performs high-precision mass measurements of rare and exotic nuclei produced at FRIB, and is a member of the laboratory's outreach committee. He also is treasurer of MSU SciComm and co-host of the The Sci-Files on Impact 89 FM with Chelsie Boodoo, MSU SciComm president.
Puentes said the showcase was intended to creatively share scientific ideas and research with the public by bringing together scientists and artists.
"MSU SciComm wanted to do something unique to help get people excited about science and science communication. We focused on science-art because art is a universal language that anyone can understand," said Puentes. "Partnering with FRIB to bring Physics Girl to campus was the cherry on top of our day of events. We are thrilled our first showcase was such a success and hope we inspired many new science lovers of all ages."
The Physics Girl event was presented as part of FRIB's Advanced Studies Gateway (ASG) program. ASG brings together researchers, innovators, creative thinkers, artists, and performers from all fields and strengthens ties between MSU and the community. ASG events are free and open to the public.
"We were delighted to partner with MSU SciComm to bring Physics Girl to campus," said FRIB Laboratory Director Thomas Glasmacher. "Physics Girl aims to inspire young scientists, and training the next generation of scientists is part of our mission. Events like this also help us share with our community how the scientific discoveries made at FRIB will positively change all of our lives."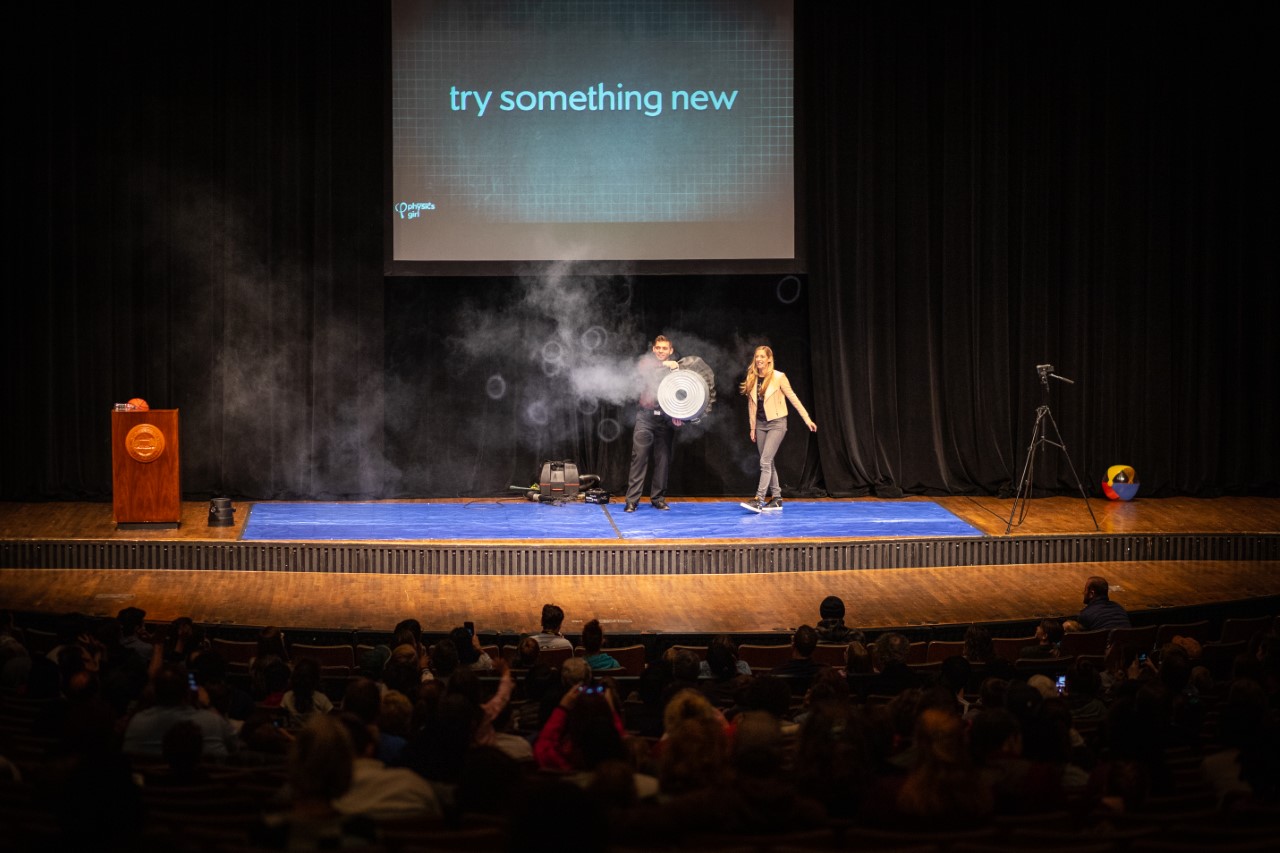 "Physics Girl" Dianna Cowern shows how a vortex cannon can create fog rings, encouraging the audience to try something new and explore how science is interrelated in our everyday lives. Photo by Tayler Murphy.