Prepare for your visit
Prior to arriving for your visit to NSCL, users will need to complete the following steps before access can be granted.  Please return the forms to the Manager for User Relations at least 3 weeks prior to arrival.
Notify the Manager for User Relations of your anticipated travel dates
Complete the Outside User Collaboration Form. Non-US persons will need to also send a copy of their current CV/resume.
If you plan to ship radioactive material, complete this Request to Ship form. Please email this completed form to: orcbs@frib.msu.edu and useroffice@nscl.msu.edu
Notify the Manager for User Relations if you plan to bring any equipment from your home institution
Book your hotel – NSCL offers a reduced rate at several area hotels
Review the "Responsibilities of Experimenters at NSCL" 
On-campus Accommodation
To inquire about on-campus availability, please contact the Manager for User Relations.
Guest Apartments (2 minute walk to NSCL) NSCL/FRIB is presently renting two apartments in Owen Hall and one in Van Hoosen Hall for the use of NSCL/FRIB users and guests. The rate is $59 per night. Photos of the apartments are shown in the brochure. Each apartment includes a kitchen, living area, bedroom, and a private bathroom. The Van Hoosen Hall apartment features a queen bed sleeping arrangement, while the apartments in Owen Hall feature two twin bed sleeping arrangements. Please note that the Van Hoosen apartment is only available in the summer months when MSU is not in session, while the two Owen Hall apartments are available all year round.
Visiting Scholar Rooms in Owen Hall (2 minute walk to NSCL) These dormitory-style rooms are perfect for the budget conscious user. The charge for dorm rooms at Owen Hall is $50/night. Each room has a shared bathroom with one other room. If you are traveling with another colleague, let us know and there is a chance we can assign you to the same suite (so you would only share the bathroom with your colleague).
The Apartments and Visiting Scholar Rooms are adjacent to the Riverwalk Market, a food mart attached to a student dining hall featuring diverse culinary options. There is a Starbuck's coffee and Panera Bread across Bogue Street in the Business College building. Laundry is available at no cost in both Owen Hall and Van Hoosen (guests need to bring their own soap). The location of the apartments and visiting scholar rooms relative to NSCL/FRIB cannot be beat!
List of Area Hotels
NSCL has special arrangements with several hotels to provide rooms at reduced rates for NSCL users and visitors, including visitors who pay their own expenses. When making your reservation, simply identify yourself as being eligible for the FRIB reduced rate.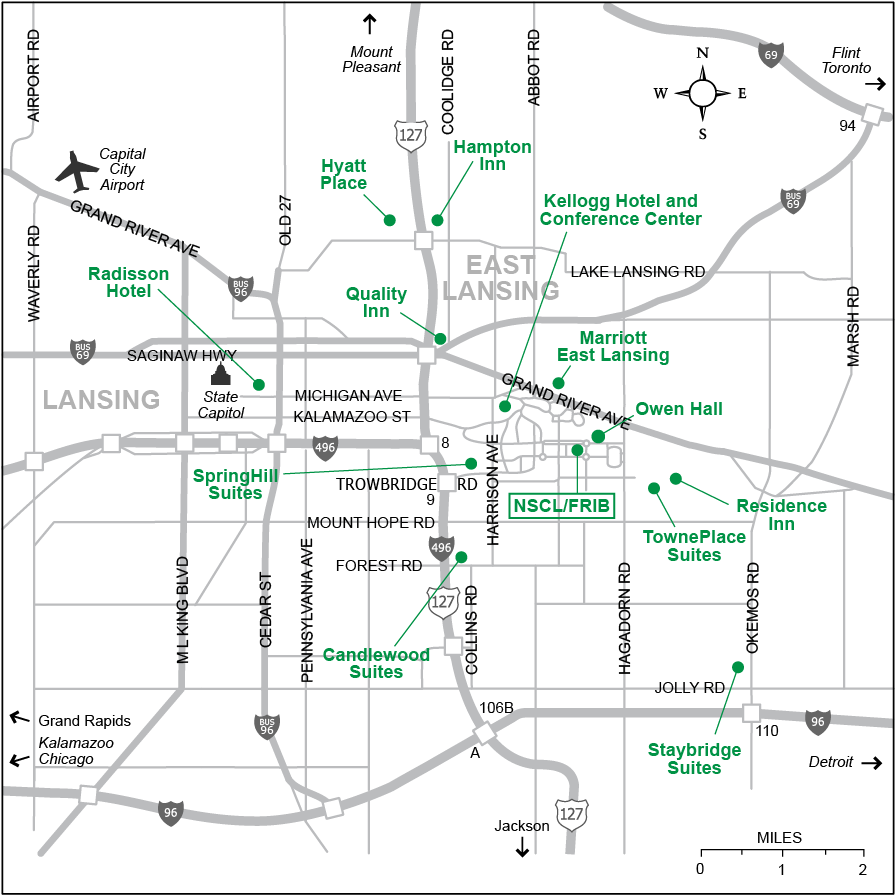 Getting Here
NSCL is located on the campus of Michigan State University in East Lansing, Michigan. We easily can be reached by car and air.
The Lansing Capital City Airport (LAN) is serviced by five airlines. Rental cars and taxis are available for the approximately 20 minute trip to NSCL.
Wayne County Detroit Metropolitan Airport (DTW), with its new 97-gate terminal, is serviced by all major airlines. Rental cars, the MichiganFlyer coach service and limousine service are available for the 90-120 minute trip to NSCL.
The MichiganFlyer offers reliable motorcoach connections between East Lansing and the Detroit Metropolitan Airport at affordable rates. The cost of a round-trip from DTW to East Lansing is $54 with an advanced purchase, for one adult. The bus generally runs 12-14 round trips per day between the hours of 4 AM and 11 PM. WiFi is available on all routes.
The Gerald R. Ford International Airport in Grand Rapids (GRR) and the Bishop International Airport (FNT) in Flint sometimes offer lower rates and are within 60 minutes driving distances.
Please contact the Manager for User Relations if you need assistance with your travel or lodging arrangements.
Assistance to Experimenters
NSCL offers technical assistance compatible with Lab resources to users, for mechanical, electronic, and data acquisition needs when preparing for their experiments. All requests for technical assistance are initiated by the users submitting the form "Questionnaire for Scheduling Experiments." The NSCL provides information and design assistance to the extent that is compatible with its resources.

Prior to their arrival at the NSCL, users receive a 5-page document entitled "Responsibilities of Experimenters at NSCL". The focus of this document is on the procedures that are to be followed just prior to, during, and just after the performance of the experiment. This helps both the users and the NSCL staff by communicating expectations from both sides.

When an experiment is scheduled, a member of the A1900 group is assigned as "A1900 Contact" to coordinate the planning of beam delivery. This contact person discusses with the spokesperson of the experiment the detailed secondary beam sequence plan and A1900 configuration. During the experiment, the A1900 group provides sustainable coverage of up to 16 hours/day on weekdays for full beam delivery support and on-call support in the event of facility breakdowns on nights and weekends.

For experiments using the supported major experimental devices (the A1900 fragment separator, the S800 spectrograph, the Segmented germanium array and the Sweeper magnet), the NSCL provides Device Physicists who tune the devices and make sure they operate properly. The Device Physicists also provide readout and analysis software for these devices. For non-supported devices, the NSCL provides contact persons who are knowledgeable about the devices and can be approached for assistance.

During the experiment, Data-U displays show a summary of the running conditions, for informing the users and for getting their immediate feedback.

Interaction between experimenters and NSCL Operations staff is facilitated by two brief coordination meetings held every work day at the NSCL: a general meeting at 8 AM and a beam coordination meeting at 1:45 PM. Starting two days prior to the experiment and during the experiment, the spokesperson of the experiment or a designee participates daily in both meetings.

NSCL assists its users by helping them find convenient, low-cost accommodation in hotels, guest apartments, and dormitory rooms. We also assist users with other aspects of their travel, e.g. by arranging for car rentals and pickups (by limousine or hotel van) at Lansing and Detroit airports.

Some other facilities available to our users are:

Desks with computers and wireless hookups;

Offices for visiting graduate students and long-term visitors;

Lockers for storing personal belongings;

Access to MSU sports and exercise facilities.